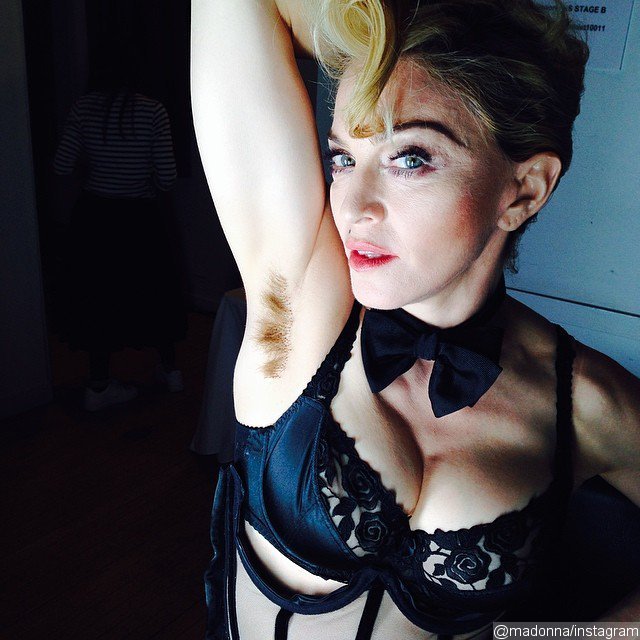 The rebel that she is,
Madonna
is going against the mainstream beauty by growing her armpit hair. On Thursday, March 20, the 55-year-old singer showed off her
underarm
in a close-up snapshot posted on Instagram.
"Long hair......Don't Care!!!!!!" Madonna captioned the pic, adding "#artforfreedom #rebelheart #revolutionoflove." Clad in sexy black bra, she raised her right arm to reveal a patch of

brown hair

growing on her armpit.
Back in 2011, Madonna told Harper's Bazaar that she had always found herself different from most girls since she was a teen. "Going to high school, I saw how popular girls had to behave to get the boys. I knew I couldn't fit into that. So I decided to do the opposite," she told the magazine. "I refused to wear makeup,

to have

a hairstyle. I refused to shave. I had hairy armpits."
The musician continued, "The boys in my school would make fun of me. 'Hairy monster.' You know, things like that." She began hanging out at gay clubs. "Straight men did not find me attractive," she said. "I think they were scared of me because I was different. I've always asked, 'Why? Why do I have to do that? Why do I have to look this way? Why do I have to dress this way? Why do I have to behave this way?' "
Madonna was confident in showing her armpit but she had second thought about posting a photo of her from behind. She pulled down ablack and white picture of her wearing only bra, fishnet stockings and some kind of corset as soon as she posted it on Thursday.